Experiencing pain while shovelling? Below are some ways that physiotherapy can help!
It's the most wonderful time of year! That white stuff that we all love has started falling. With the first snow fall of the season comes the realization that we will have to dust off those snow shovels once again… I know, I know, I too can't believe that it's winter already. While shovelling is something that we all hope to get out of the way and crossed off our to-do lists as quickly as possible, it is important to take the necessary steps to ensure that we stay healthy this winter. There is more the be mindful of than just swiftly scooping and throwing and calling it a day. Below we will get down to the nitty gritty of shoulder health and safety when shovelling our driveways and walkways and anywhere else snow finds its way to in the months ahead.
Shovelling injuries are a real risk! According to a study conducted in the USA between 1990 and 2006, an average of 11,500 snow shovelling related injuries occurred every year. These injuries were most common in men (67.5% of cases) and in individuals over the age of 55 (21.8%). 54.7% of these injuries were classified as soft tissue injury (strains, tears, tendinitis). 20% of injuries were the result of a fall while shovelling. None of us want to become a statistic in a future study, so let's learn about such injuries and what we can do to avoid them!
The Rotator Cuff
The rotator cuff refers to the four muscles of the shoulder that are involved in moving our shoulder joint. These muscles are Supraspinatus, Infraspinatus, Teres minor, and Subscapularis. We need the muscles of the rotator cuff to use our shoulder the way it is meant to function. We need them to reach over head, to reach behind, to put a seat belt on, to scratch our back, to wash our hair in the shower, and all sorts of activities in our daily life. However, these muscles can be seriously injured in many ways when shovelling snow, including tendinitis, bursitis, shoulder impingement, and muscle tear.
Injury Prevention
Warm up and stretch our muscles to get them ready for the work ahead.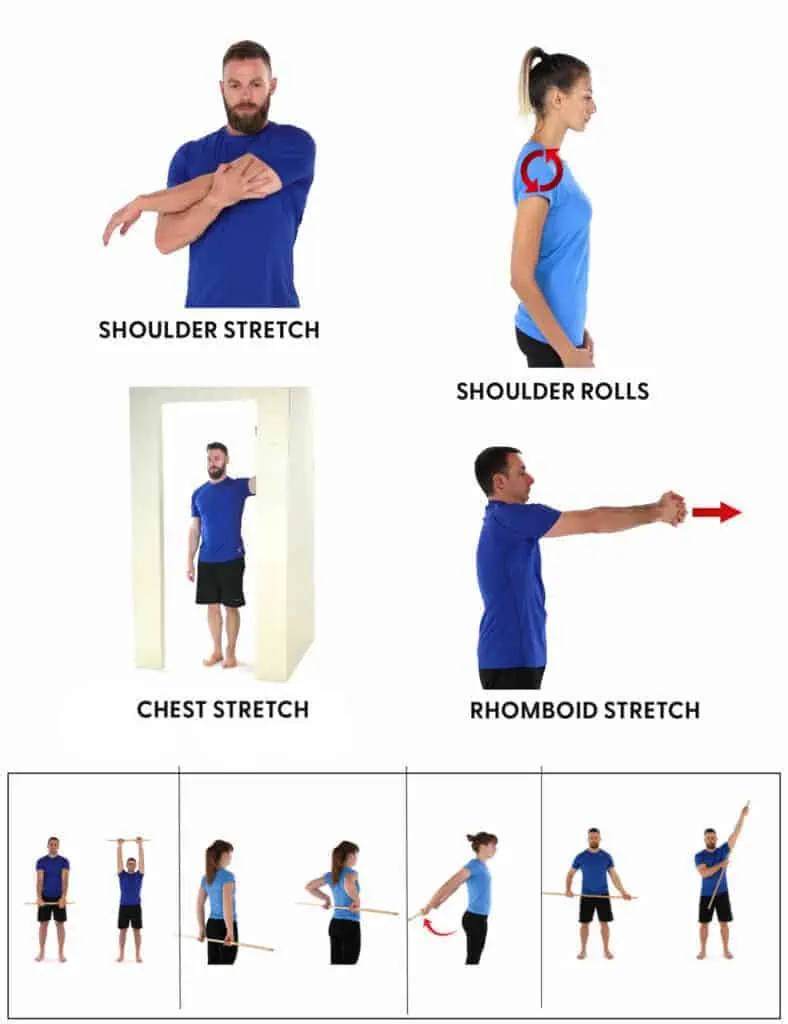 Use an ergonomically designed shovel to help avoid poor body positioning while lifting snow. Provide image of shovel
Use Proper technique
Shovelling smaller amounts of snow on each lift will help reduce the stress put on our shoulder… think of it like lifting less weight per rep when working out.
Don't throw shovelled snow back over your shoulder – instead lift and dump in front of your body.
Lift with your entire body – Don't put excess stress on any one muscle group. When shovelling, we want to do this in one smooth motion:

Bend at the knees
Push off the feet
Lift at the shoulder
Lift snow only as high as the waist

Do NOT twist, instead turn with the shovel (BONUS back health tip!)

Take your time! When rushing through chores it can be easy to forget proper technique.
Be mindful of any hard packed snow and/or ice beneath the surface. Patches of snow like this can put a lot of impact force on the tendons in our shoulder. Do your best to avoid hacking away at spots like this for too long, use salt instead.
Take any symptoms of shoulder pain seriously, this pain may be a sign of rotator cuff injury or that an existing injury is worsening, and we need to take a break from shovelling.
Wear appropriate footwear. The muscles of the rotator cuff can be injured in falls too! The use of good footwear will help to avoid slipping on slick ice.
Follow these tips and you'll be ready to take on whatever winter has in store for us!
How can physiotherapy help?
Our physiotherapists will carefully assess you and develop a plan of care guided by your personal goals. This plan will consist of Active therapy, manual therapy, and physical modalities to help manage your pain and to strengthen your muscles!
Contact us at 519-219-5428 or email admin@cambridgephysio.ca to ask any questions and/or book an appointment.
---

Sources:
Environment Canada. Meteorological Service of Canada. Canadian Climate Normals. 1981-2010 Climate Normals & Averages.
Snow shoveling. Nationwide Children's Hospital. (n.d.). Retrieved December 1, 2022, from https://www.nationwidechildrens.org/research/areas-of-research/center-for-injury-research-and-policy/injury-topics/sports-recreation/snow-shoveling#:~:text=Snow%20Shoveling%2DRelated%20Injury%20Facts&text=The%20most%20common%20injuries%20are,
chest%20pain%20and%20cardiac%20arrest.
Stone, J., & Business. (2016, December 22). Physio: Snow shoveling hard on shoulders. Kelowna Capital News. Retrieved December 1, 2022, from https://www.kelownacapnews.com/business/physio-snow-shoveling-hard-on-shoulders/
Talks, R. C. (2021, February 23). Shovelling Snow? know the risks and mistakes to avoid. Red Cross Canada. Retrieved December 1, 2022, from https://www.redcross.ca/blog/2021/2/shovelling-snow-know-the-risks-and-mistakes-to-avoid
Watson, D. S., Shields, B. J., & Smith, G. A. (2011). Snow shovel-related injuries and medical emergencies treated in US EDs, 1990 to 2006. The American journal of emergency medicine, 29(1), 11–17. https://doi.org/10.1016/j.ajem.2009.07.003
Weiss, C. (2021, November 24). Mayo Clinic Q and a: Shoulder injuries and winter weather safety tips – mayo clinic news network. Mayo Clinic. Retrieved December 1, 2022, from https://newsnetwork.mayoclinic.org/discussion/mayo-clinic-q-and-a-shoulder-injuries-and-winter-weather-safety-tips/